My Profile
Name Rick Tobert
Address PO Box 51
Phone 509-263-1263
Email design@clickforadeal.com
My Training
| | | | | | | | | | |
| --- | --- | --- | --- | --- | --- | --- | --- | --- | --- |
| | | | | | | | | | |
| TITLE | TYPE | REGISTERED | START DATE | END DATE | DUE DATE | SCORE | STATUS | COMPLETION DATE | |
| Veritas Backup Exec 3600 BBU Replacement | Online Class | 12/10/2014 | N/A | N/A | N/A | 100 | Completed | 12/10/2014 | |
| Lexmark T65x | Online Class | 11/20/2014 | N/A | N/A | N/A | 100 | Completed | 5/2/2014 | |
| LP LexmarkT64x_X64x | Online Class | 11/12/2014 | N/A | N/A | N/A | 100 | Completed | 5/3/2014 | |
| LP LexmarkE26x_E36x_E46x | Online Class | 11/12/2014 | N/A | N/A | N/A | 100 | Completed | 5/3/2014 | |
| LP Lexmark C73x_X73x_C74x_X74x | Online Class | 11/12/2014 | N/A | N/A | N/A | 100 | Completed | 5/3/2014 | |
| Security Awareness Training Curriculum | Curriculum | 7/28/2014 | N/A | N/A | 10/31/2014 | | Completed | 10/17/2014 | |
| Security Awareness Training - English | Online Class | 10/17/2014 | N/A | N/A | N/A | 80 | Completed | 10/17/2014 | |
| Lexmark T65x/X65x | Online Class | N/A | N/A | N/A | N/A | 100 | Completed (Equivalent) | 4/2/2013 | |
| 35001 Walmart Certification (SILVER LEVEL) | Curriculum | 2/25/2014 | N/A | N/A | N/A | | Completed | 2/25/2014 | |
| Scan Coin SC22 MicroSorter Final Test | Online Class | 3/3/2008 | N/A | N/A | N/A | 83 | Completed | 3/3/2008 | |
| Wal-Mart Single Source Contract - Silver 2010 | Online Class | 7/17/2011 | N/A | N/A | N/A | 97 | Completed | 7/17/2011 | |
| Migrated Credit for WalMart Silver Certification | Online Class | 2/25/2014 | N/A | N/A | N/A | 100 | Completed | 7/19/2011 | |
| RealScan 7875 Scanner/Scale Service | Reference Materials | 6/23/2011 | N/A | N/A | N/A | 0 | Completed | 6/23/2011 | |
| IBM 4800-7xx SurePOS Terminal | Reference Materials | 7/19/2011 | N/A | N/A | N/A | 0 | Completed | 7/19/2011 | |
| Scan Coin SC22 MicroSorter | Reference Materials | 7/19/2011 | N/A | N/A | N/A | 0 | Completed | 7/19/2011 | |
| NCR RealScan 7878 Scanner/Scale | Online Class | 6/25/2011 | N/A | N/A | N/A | 85 | Completed | 6/25/2011 | |
| 35000 Walmart Certification (Bronze) | Curriculum | 2/25/2014 | N/A | N/A | N/A | | Completed | 2/25/2014 | |
| Wal-Mart Electronic Media Tracking (EMT) | Online Class | 7/3/2007 | N/A | N/A | N/A | 75 | Completed | 7/3/2007 | |
| Migrated Credit for WalMart Bronze Certification | Online Class | 2/25/2014 | N/A | N/A | N/A | 100 | Completed | 11/19/2010 | |
| 2007 Wal-Mart Single Source Contract Update - Bronze | Online Class | 11/16/2010 | N/A | N/A | N/A | 89 | Completed | 11/16/2010 | |
| Wal-Mart CE Dashboard Overview | Online Class | 9/30/2013 | N/A | N/A | N/A | 90 | Completed | 9/30/2013 | |
| Migrated Credit for WalMart Silver Certification | Online Class | 2/25/2014 | N/A | N/A | N/A | 100 | Completed | 7/19/2011 | |
| Migrated Credit for WalMart Bronze Certification | Online Class | 2/25/2014 | N/A | N/A | N/A | 100 | Completed | 11/19/2010 | |
| 2014 NCR Code of Conduct | Online Class | 1/29/2014 | N/A | N/A | 3/3/2014 | 0 | Completed | 2/10/2014 | |
| Wells Fargo Authorization Forms | Online Class | 1/4/2014 | N/A | N/A | N/A | 100 | Completed | 1/4/2014 | |
| Wal-Mart CE Dashboard Overview | Online Class | 9/30/2013 | N/A | N/A | N/A | 90 | Completed | 9/30/2013 | |
| NCR SelfServ Checkout rel.5 (7350) Hardware Overview | Online Class | 9/30/2013 | N/A | N/A | N/A | 93 | Completed | 9/30/2013 | |
| SSCO Rel 5 Support Overview | Online Class | 9/30/2013 | N/A | N/A | N/A | 100 | Completed | 9/30/2013 | |
| Bank of America Hard Drive Destruction Process | Online Class | 4/9/2013 | N/A | N/A | N/A | 80 | Completed | 4/9/2013 | |
| Lexmark X65x MFP | Reference Materials | 4/2/2013 | N/A | N/A | N/A | 100 | Completed | 4/2/2013 | |
| Lexmark C73x/X73x/C74x/X74x Printers | Reference Materials | 4/1/2013 | N/A | N/A | N/A | 100 | Completed | 4/1/2013 | |
| Dell Training for Desktop Systems | Reference Materials | 3/27/2013 | N/A | N/A | N/A | 100 | Completed | 3/27/2013 | |
| Dell Training for Notebooks | Reference Materials | 3/27/2013 | N/A | N/A | N/A | 100 | Completed | 3/27/2013 | |
| Wells Fargo Total Premise | Reference Materials | 3/26/2013 | N/A | N/A | N/A | 0 | Completed | 3/26/2013 | |
| Wells Fargo Total Premise Overview Centra Session | Reference Materials | 3/26/2013 | N/A | N/A | N/A | 0 | Completed | 3/26/2013 | |
| Dell Training for Printers | Reference Materials | 3/26/2013 | N/A | N/A | N/A | 100 | Completed | 3/26/2013 | |
| 2013 NCR Code of Conduct Course - English | Online Class | 2/22/2013 | N/A | N/A | N/A | 0 | Completed | 2/22/2013 | |
| Catalina Coupon System | Reference Materials | 1/24/2013 | N/A | N/A | N/A | 100 | Completed | 1/24/2013 | |
| Target 101 | Online Class | 1/14/2013 | N/A | N/A | N/A | 100 | Completed | 1/14/2013 | |
| NCR Self Serv 60 Kiosk (7409) | Online Class | 12/18/2012 | N/A | N/A | N/A | 80 | Completed | 12/18/2012 | |
| 2012 NCR Corporate / Personal Integrity Program | Reference Materials | 12/18/2012 | N/A | N/A | N/A | 0 | Completed | 12/18/2012 | |
| NCR RealPOS 70 (7402) Hardware Rel 1.2, 1.3, 1.4 COURSE TEST | Reference Materials | 12/1/2012 | N/A | N/A | N/A | 100 | Completed | 12/1/2012 | |
| NCR SelfServ 7405 Test | Reference Materials | 11/30/2012 | N/A | N/A | N/A | 92 | Completed | 11/30/2012 | |
| SoloHealth Kiosk GEN II CE Installation Training | Online Class | 11/29/2012 | N/A | N/A | N/A | 90 | Completed | 11/29/2012 | |
| NCR SelfServ 7405 | Reference Materials | 10/24/2012 | N/A | N/A | N/A | 100 | Completed | 10/24/2012 | |
| Quantum - Scalar i40 and Scalar i80 Service - Quantum Course 2-0223 | Reference Materials | 7/29/2012 | N/A | N/A | N/A | 100 | Completed | 7/29/2012 | |
| 2012 NCR Code of Conduct Course | Reference Materials | 2/16/2012 | N/A | N/A | N/A | 0 | Completed | 2/16/2012 | |
| Alcatel-Lucent OmniPCX Enterprise R 8.0 (AQFP) | Reference Materials | 1/11/2012 | N/A | N/A | N/A | 88 | Completed | 1/11/2012 | |
| Security Update Test for ATM Service Technicians Business Model B | Online Class | 2/23/2013 | N/A | N/A | N/A | 100 | Completed | 2/23/2013 | |
| 2011 NCR Corporate / Personal Integrity Program | Reference Materials | 9/20/2011 | N/A | N/A | N/A | 0 | Completed | 9/20/2011 | |
| NCR 7459 RealPOS 80XRT Terminal | Reference Materials | 7/22/2011 | N/A | N/A | N/A | 0 | Completed | 7/22/2011 | |
| RiverBed On Site Training CD2 - WebQuiz_42641 | Reference Materials | 7/21/2011 | N/A | N/A | N/A | 95 | Completed | 7/21/2011 | |
| RiverBed Series 250, 550, 1050, 2050, 5050, 6050. Rack Installation | Reference Materials | 7/21/2011 | N/A | N/A | N/A | 98 | Completed | 7/21/2011 | |
| Lexmark Service Library and Training DVD | Reference Materials | 7/21/2011 | N/A | N/A | N/A | 0 | Completed | 7/21/2011 | |
| 7401/7454 Hardware CBT | Reference Materials | 7/20/2011 | N/A | N/A | N/A | 0 | Completed | 7/20/2011 | |
| IBM 4800-7xx SurePOS Terminal - COURSE TEST | Reference Materials | 7/19/2011 | N/A | N/A | N/A | 100 | Completed | 7/19/2011 | |
| IBM 4800-7xx SurePOS Terminal | Reference Materials | 7/19/2011 | N/A | N/A | N/A | 0 | Completed | 7/19/2011 | |
| Scan Coin SC22 MicroSorter | Reference Materials | 7/19/2011 | N/A | N/A | N/A | 0 | Completed | 7/19/2011 | |
| Wal-Mart Single Source Contract - Silver 2010 | Online Class | 7/17/2011 | N/A | N/A | N/A | 97 | Completed | 7/17/2011 | |
| NTA: Time and Attendance Training | Online Class | 7/15/2011 | N/A | N/A | N/A | 100 | Completed | 7/15/2011 | |
| RealScan 7875 Scanner/Scale Service - Course Test | Reference Materials | 6/28/2011 | N/A | N/A | N/A | 80 | Completed | 6/28/2011 | |
| CE Toolkit for Wal-Mart | Reference Materials | 6/27/2011 | N/A | N/A | N/A | 85 | Completed | 6/27/2011 | |
| Wal-Mart MAK Kiosk | Reference Materials | 6/27/2011 | N/A | N/A | N/A | 100 | Completed | 6/27/2011 | |
| NCR RealScan 7878 Scanner/Scale | Online Class | 6/25/2011 | N/A | N/A | N/A | 85 | Completed | 6/25/2011 | |
| RealScan 7875 Scanner/Scale Service | Reference Materials | 6/23/2011 | N/A | N/A | N/A | 0 | Completed | 6/23/2011 | |
| ATM Fraud Detection and Escalation | Online Class | 3/1/2011 | N/A | N/A | N/A | 0 | Completed | 3/1/2011 | |
| 2011 NCR Code of Conduct Course | Reference Materials | 2/11/2011 | N/A | N/A | N/A | 0 | Completed | 2/11/2011 | |
| CISCO DSL Exam | Online Class | 1/26/2012 | N/A | N/A | N/A | 92 | Completed | 1/26/2012 | |
| RIVERBED On Site Training CD 2 | Reference Materials | 1/22/2011 | N/A | N/A | N/A | 0 | Completed | 1/22/2011 | |
| RIVERBED On Site Training CD 1 | Reference Materials | 1/22/2011 | N/A | N/A | N/A | 0 | Completed | 1/22/2011 | |
| Global CE Wireless Release 3.8 Update | Reference Materials | 1/21/2011 | N/A | N/A | N/A | 100 | Completed | 1/21/2011 | |
| Security Training for ATM Service Technicians - Business Model B | Reference Materials | 11/19/2010 | N/A | N/A | N/A | 99 | Completed | 11/19/2010 | |
| Wal*Mart SAMM CD Navigation Quiz | Reference Materials | 11/19/2010 | N/A | N/A | N/A | 100 | Completed | 11/19/2010 | |
| Wal-Mart Smart System Sign-in | Online Class | 11/16/2010 | N/A | N/A | N/A | 100 | Completed | 11/16/2010 | |
| 2007 Wal-Mart Single Source Contract Update - Bronze | Online Class | 11/16/2010 | N/A | N/A | N/A | 89 | Completed | 11/16/2010 | |
| Wal-Mart Store Visit Expectations 2008 | Reference Materials | 11/15/2010 | N/A | N/A | N/A | 99 | Completed | 11/15/2010 | |
| Wal-Mart T&M Billing Process | Online Class | 11/15/2010 | N/A | N/A | N/A | 100 | Completed | 11/15/2010 | |
| 2010 NCR Corporate / Personal Integrity Program | Reference Materials | 8/31/2010 | N/A | N/A | N/A | 0 | Completed | 8/31/2010 | |
| Wal-Mart Debit Readers | Reference Materials | 8/12/2010 | N/A | N/A | N/A | 99 | Completed | 8/12/2010 | |
| 2010 NCR Code of Conduct Course | Reference Materials | 2/22/2010 | N/A | N/A | N/A | 0 | Completed | 2/22/2010 | |
| Facility Code & Serial Number Reporting | Reference Materials | 1/21/2010 | N/A | N/A | N/A | 87 | Completed | 1/21/2010 | |
| Bank Of America IPP Training for CEs | Reference Materials | 1/8/2010 | N/A | N/A | N/A | 99 | Completed | 1/8/2010 | |
| CE Mentoring Workshop Participants Materials | Reference Materials | 11/11/2009 | N/A | N/A | N/A | 0 | Completed | 11/11/2009 | |
| Cisco ESTQ Fundamentals Exam | Reference Materials | 10/1/2009 | N/A | N/A | N/A | 100 | Completed | 10/1/2009 | |
| GlassHouse Data Domain FRU Replacement | Reference Materials | 8/5/2009 | N/A | N/A | N/A | 88 | Completed | 8/5/2009 | |
| Self Serv 662x/663x ATMs (Adjunct) | Session | 6/25/2009 | 7/22/2009 | 7/24/2009 | N/A | 0 | Completed | 7/24/2009 | |
| ATM Length of Service Verification | Reference Materials | 6/25/2009 | N/A | N/A | N/A | 80 | Completed | 6/25/2009 | |
| Deposit Automation Modules (BNA2 & CPM2/3 (iTRAN 1000)) | Session | 6/24/2009 | 7/20/2009 | 7/21/2009 | N/A | 0 | Completed | 7/21/2009 | |
| Chase 3 Repeat call | Reference Materials | 6/17/2009 | N/A | N/A | N/A | 100 | Completed | 6/17/2009 | |
| NCR Corporate/Personal Integrity Program (C/PIP) 2009 | Reference Materials | 6/4/2009 | N/A | N/A | N/A | 0 | Completed | 6/4/2009 | |
| GlassHouse Isilon Product Family Hardware | Reference Materials | 4/21/2009 | N/A | N/A | N/A | 95 | Completed | 4/21/2009 | |
| 2009 NCR Code of Conduct Course (RETIRED) | Reference Materials | 3/13/2009 | N/A | N/A | N/A | 0 | Completed | 3/13/2009 | |
| Global Out of Box Failure Process 2008-Customer Engineer Training | Reference Materials | 1/6/2009 | N/A | N/A | N/A | 100 | Completed | 1/6/2009 | |
| CERT-CISCO SDL Exam | Online Class | 10/22/2008 | N/A | N/A | N/A | 0 | Completed | 10/23/2008 | |
| Connecting to Remote Networks | Reference Materials | 9/25/2008 | N/A | N/A | N/A | 89 | Completed | 9/25/2008 | |
| SelfServ Entertainment 2371 DVD Rental Kiosks (formerly TNR) | Session | 9/23/2008 | 1/1/1970 | 1/1/1970 | N/A | 80 | Completed | 10/17/2008 | |
| NCR Corporate / Personal Integrity Program -- Employee Version | Reference Materials | 5/21/2008 | N/A | N/A | N/A | 100 | Completed | 5/21/2008 | |
| Dell Foundation 2008 Portable (Exam) | Reference Materials | 5/16/2008 | N/A | N/A | N/A | 90 | Completed | 5/16/2008 | |
| Length of Service Verification - 1 Year | Reference Materials | 4/24/2008 | N/A | N/A | N/A | 90 | Completed | 4/24/2008 | |
| Scan Coin SC22 MicroSorter Final Test | Online Class | 3/3/2008 | N/A | N/A | N/A | 83 | Completed | 3/3/2008 | |
| 2008 NCR Code of Conduct - English | Reference Materials | 2/15/2008 | N/A | N/A | N/A | 100 | Completed | 2/15/2008 | |
| Moments of Truth | Session | 10/23/2007 | 1/1/1970 | 1/1/1970 | N/A | 0 | Completed | 10/23/2007 | |
| Dell Foundation 2007 Desktops (Exam) | Reference Materials | 10/2/2007 | N/A | N/A | N/A | 90 | Completed | 10/2/2007 | |
| NCR WCS Wal-Mart Account Overview | Online Class | 8/27/2007 | N/A | N/A | N/A | 85 | Completed | 8/27/2007 | |
| 2007 Wal-Mart Single Source Contract Update - Bronze | Reference Materials | 8/27/2007 | N/A | N/A | N/A | 100 | Completed | 8/27/2007 | |
| Building a Simple Ethernet Network | Reference Materials | 7/18/2007 | N/A | N/A | N/A | 100 | Completed | 7/18/2007 | |
| Wal-Mart Electronic Media Tracking (EMT) | Online Class | 7/3/2007 | N/A | N/A | N/A | 75 | Completed | 7/3/2007 | |
| Global Codes 2007 Roundtable | Session | 5/12/2007 | 1/1/1970 | 1/1/1970 | N/A | 0 | Completed | 5/12/2007 | |
| CE Reporting Standards - 2008 (English) | Reference Materials | 3/28/2007 | N/A | N/A | N/A | 88 | Completed | 3/28/2007 | |
| NCR Code of Conduct 2007; English | Reference Materials | 2/7/2007 | N/A | N/A | N/A | 0 | Completed | 2/7/2007 | |
| CERT-Dell Associate DCSE Certification, Foundation 2005 Desktops | Online Class | 1/19/2007 | N/A | N/A | N/A | 0 | Completed | 1/19/2007 | |
| Dell Foundation 2005 Desktops (Exam) | Reference Materials | 1/19/2007 | N/A | N/A | N/A | 90 | Completed | 1/19/2007 | |
| Building a Simple Network | Reference Materials | 1/18/2007 | N/A | N/A | N/A | 100 | Completed | 1/18/2007 | |
| CERT-Limited Account Certification (Bronze Level) | Online Class | 1/16/2007 | N/A | N/A | N/A | 0 | Completed | 1/16/2007 | |
| WCS Problem Unit Program (PUP) | Reference Materials | 1/16/2007 | N/A | N/A | N/A | 90 | Completed | 1/16/2007 | |
| Limited Brands Account Overview | Reference Materials | 1/16/2007 | N/A | N/A | N/A | 80 | Completed | 1/16/2007 | |
| CERT-Limited Account Certification (Silver Level) | Online Class | 1/16/2007 | N/A | N/A | N/A | 0 | Completed | 1/16/2007 | |
| 7766 Problem Unit Program (PUP) | Reference Materials | 1/16/2007 | N/A | N/A | N/A | 100 | Completed | 1/16/2007 | |
| Limited Brands Account Technical Review | Reference Materials | 1/16/2007 | N/A | N/A | N/A | 92 | Completed | 1/16/2007 | |
| Lexmark Printers | Reference Materials | 1/2/2007 | N/A | N/A | N/A | 0 | Completed | 1/2/2007 | |
| Lexmark Laser Printer Concepts Test | Reference Materials | 1/2/2007 | N/A | N/A | N/A | 91 | Completed | 1/2/2007 | |
| CE Logistics | Reference Materials | 9/18/2006 | N/A | N/A | N/A | 100 | Completed | 9/18/2006 | |
| CE Scope of Service Training | Reference Materials | 9/10/2006 | N/A | N/A | N/A | 83 | Completed | 9/10/2006 | |
| Event Management Overview - English | Reference Materials | 6/14/2006 | N/A | N/A | N/A | 77 | Completed | 6/14/2006 | |
| CE Reporting Standards - English | Reference Materials | 6/14/2006 | N/A | N/A | N/A | 84 | Completed | 6/14/2006 | |
| CE Reporting Standards/Global Codes NetMeetings | Session | 6/7/2006 | 1/1/1970 | 1/1/1970 | N/A | 0 | Completed | 6/7/2006 | |
| Event Management Net Meetings | Session | 6/7/2006 | 1/1/1970 | 1/1/1970 | N/A | 0 | Completed | 6/7/2006 | |
| CERT-Wal-Mart Certification (BRONZE LEVEL) | Online Class | 6/6/2006 | N/A | N/A | N/A | 0 | Completed | 8/27/2007 | |
| NCR Code of Conduct 2006; English | Reference Materials | 4/12/2006 | N/A | N/A | N/A | 0 | Completed | 4/12/2006 | |
| Introduction to DLT tape and Super DLT tape Drives (ATL) Quantum course #1001 | Reference Materials | 1/29/2006 | N/A | N/A | N/A | 80 | Completed | 1/29/2006 | |
| Introduction to TapeLib Diagnostics (ATL) Quantum Course #4001 | Reference Materials | 1/29/2006 | N/A | N/A | N/A | 90 | Completed | 1/29/2006 | |
| P2000/P4000 Library Field Service Course (Quantum Course #3251) | Reference Materials | 1/29/2006 | N/A | N/A | N/A | 70 | Completed | 1/29/2006 | |
| Introduction to Prism Storage Architecture (ATL) Quantum Course #1003 | Reference Materials | 1/28/2006 | N/A | N/A | N/A | 100 | Completed | 1/28/2006 | |
| Intel Service Requirements (Quantum Course #7301) | Reference Materials | 1/28/2006 | N/A | N/A | N/A | 100 | Completed | 1/28/2006 | |
| Introduction to Quantum ATL Libraries (ATL) Quantum course #1004 | Reference Materials | 1/28/2006 | N/A | N/A | N/A | 100 | Completed | 1/28/2006 | |
| Global CE Wireless (GCEW) Logistics | Reference Materials | 1/27/2006 | N/A | N/A | N/A | 81 | Completed | 1/27/2006 | |
| Global CE Wireless Application (GCEW) | Reference Materials | 1/27/2006 | N/A | N/A | N/A | 87 | Completed | 1/27/2006 | |
| Global CE Wireless (GCEW) - English | Reference Materials | 1/27/2006 | N/A | N/A | N/A | 93 | Completed | 1/27/2006 | |
| 7405 Order and Pay Kiosk | Reference Materials | 1/27/2006 | N/A | N/A | N/A | 0 | Completed | 1/27/2006 | |
| Fundamentals of Exceptional Customer Service | Reference Materials | 8/26/2005 | N/A | N/A | N/A | 89 | Completed | 8/26/2005 | |
| Global Out of Box Failure Process-Customer Engineer Training | Reference Materials | 8/24/2005 | N/A | N/A | N/A | 80 | Completed | 8/24/2005 | |
| Global Codes (English) | Reference Materials | 6/29/2005 | N/A | N/A | N/A | 88 | Completed | 6/29/2005 | |
| Work Order ETA Input and Validation Process | Online Class | 4/26/2005 | N/A | N/A | N/A | 80 | Completed | 4/26/2005 | |
| NCR Code of Conduct (English) | Reference Materials | 3/29/2005 | N/A | N/A | N/A | 0 | Completed | 3/29/2005 | |
| WCS Strategic Direction (2005 - 2007) | Reference Materials | 3/18/2005 | N/A | N/A | N/A | 92 | Completed | 3/18/2005 | |
| Juniper Networks Internet Backbone Routers Product Overview - Service Procedure | Reference Materials | 3/17/2005 | N/A | N/A | N/A | 0 | Completed | 3/17/2005 | |
| Security Training for ATM Service Technicians | Reference Materials | 3/17/2005 | N/A | N/A | N/A | 85 | Completed | 3/17/2005 | |
| Juniper/NetScreen Hardware Field Replacement Training | Reference Materials | 3/16/2005 | N/A | N/A | N/A | 0 | Completed | 3/16/2005 | |
| Defensive Driving Techniques (U.S.) | Reference Materials | 2/23/2005 | N/A | N/A | N/A | 100 | Completed | 2/23/2005 | |
| Customer Engineer Basics Work Equivalent (Grandfathered) | Reference Materials | 12/22/2004 | N/A | N/A | N/A | 90 | Completed | 12/22/2004 | |
| Customer Engineer - Control Tower Process Refresher Training | Reference Materials | 7/30/2004 | N/A | N/A | N/A | 86 | Completed | 7/30/2004 | |
| 4Tell Problem Unit Program | Session | 7/22/2004 | 1/1/1970 | 1/1/1970 | N/A | 70 | Completed | 7/26/2004 | |
| U.S. Defensive Driving Refresher | Reference Materials | 2/4/2004 | N/A | N/A | N/A | 90 | Completed | 2/4/2004 | |
| Data Standards - Global Codes (English) | Reference Materials | 10/24/2003 | N/A | N/A | N/A | 83 | Completed | 10/24/2003 | |
| NCR Internet Expenses Course | Reference Materials | 10/15/2003 | N/A | N/A | N/A | 90 | Completed | 10/15/2003 | |
| Achieving Customer Delight - Field Delivered Course | Session | 7/1/2003 | 1/1/1970 | 1/1/1970 | N/A | 0 | Completed | 7/1/2003 | |
| Reporting Standards Roundtable | Session | 4/25/2003 | 1/1/1970 | 1/1/1970 | N/A | 0 | Completed | 4/25/2003 | |
| WCS Strategic Direction 2003-2005 | Reference Materials | 1/28/2003 | N/A | N/A | N/A | 0 | Completed | 1/28/2003 | |
| THE GRAMM-LEACH-BLILEY ACT | Reference Materials | 10/30/2002 | N/A | N/A | N/A | 0 | Completed | 10/30/2002 | |
| Asbestos Awareness Training (English) | Reference Materials | 9/22/2002 | N/A | N/A | N/A | 0 | Completed | 9/22/2002 | |
| Lift and Carry Training (English) | Reference Materials | 9/22/2002 | N/A | N/A | N/A | 0 | Completed | 9/22/2002 | |
| Ladder Safety Training (English) | Reference Materials | 9/22/2002 | N/A | N/A | N/A | 0 | Completed | 9/22/2002 | |
| Laser Safety and Awareness (English) | Reference Materials | 9/21/2002 | N/A | N/A | N/A | 0 | Completed | 9/21/2002 | |
| Personal Protective Equipment (PPE) Training (English) | Reference Materials | 9/21/2002 | N/A | N/A | N/A | 0 | Completed | 9/21/2002 | |
| WCS Chemical Hazard Communication Program (English) | Reference Materials | 9/21/2002 | N/A | N/A | N/A | 0 | Completed | 9/21/2002 | |
| Electrical Safety-Lockout/Tagout Training (English) | Reference Materials | 9/21/2002 | N/A | N/A | N/A | 0 | Completed | 9/21/2002 | |
| Office Ergonomics Awareness (English) | Reference Materials | 9/12/2002 | N/A | N/A | N/A | 0 | Completed | 9/12/2002 | |
| Improving Service Quality | Session | 8/5/2002 | 1/1/1970 | 1/1/1970 | N/A | 0 | Completed | 8/5/2002 | |
| 7401/7454 Workstations | Session | 3/16/2001 | 1/1/1970 | 1/1/1970 | N/A | 0 | Completed | 3/16/2001 | |
| Basic Electronics & Mechanical Concepts - Work Equivalent | Session | 10/30/2000 | 1/1/1970 | 1/1/1970 | N/A | 0 | Completed | 10/30/2000 | |
| FRAE 3.0 Client Update (CD-ROM) | Reference Materials | 9/29/2000 | N/A | N/A | N/A | 0 | Completed | 9/29/2000 | |
| IMP - Accuracy in Reporting | Reference Materials | 3/23/2000 | N/A | N/A | N/A | 0 | Completed | 3/23/2000 | |
| Xerox DocuPrint N24 / N32 / N40 Laser Printers | Reference Materials | 1/10/2000 | N/A | N/A | N/A | 0 | Completed | 1/10/2000 | |
| Xerox DocuPrint N24, N32, N40, N3225, and N4025 Laser Printers | Reference Materials | 12/9/1999 | N/A | N/A | N/A | 0 | Completed | 12/9/1999 | |
| MULTIVENDOR INTERNETWORKING | Session | 2/16/1999 | 1/1/1970 | 1/1/1970 | N/A | 0 | Completed | 2/16/1999 | |
| NCR 56XX/PersonaS ATM | Session | 5/11/1998 | 1/1/1970 | 1/1/1970 | N/A | 0 | Completed | 5/11/1998 | |
| Printronix Printers | Session | 1/19/1998 | 1/1/1970 | 1/1/1970 | N/A | 0 | Completed | 1/19/1998 | |
| Advanced Checkout Solution 4.0 (ACS) Support | Session | 8/25/1997 | 1/1/1970 | 1/1/1970 | N/A | 0 | Completed | 8/25/1997 | |
| WalMart IBM 4683 POS System | Session | 6/9/1997 | 1/1/1970 | 1/1/1970 | N/A | 0 | Completed | 6/9/1997 | |
| EXCELLENCE IN SERVICE (US Cust Ed) | Session | 1/9/1997 | 1/1/1970 | 1/1/1970 | N/A | 0 | Completed | 1/9/1997 | |
| 7880 SCANNER | Session | 3/7/1996 | 1/1/1970 | 1/1/1970 | N/A | 0 | Completed | 3/7/1996 | |
| 7824 SCANNER/SCALE VIDEO | Session | 3/7/1996 | 1/1/1970 | 1/1/1970 | N/A | 0 | Completed | 3/7/1996 | |
| 7852 SCANNER VIDEO | Session | 3/7/1996 | 1/1/1970 | 1/1/1970 | N/A | 0 | Completed | 3/7/1996 | |
| 7870 SCANNER SCALE | Session | 3/7/1996 | 1/1/1970 | 1/1/1970 | N/A | 0 | Completed | 3/7/1996 | |
| 2127 LEVEL 1 | Session | 2/22/1996 | 1/1/1970 | 1/1/1970 | N/A | 0 | Completed | 2/22/1996 | |
| 2126 SPLC | Session | 2/12/1996 | 1/1/1970 | 1/1/1970 | N/A | 0 | Completed | 2/12/1996 | |
| RETAIL GENERALIST | Session | 9/25/1995 | 1/1/1970 | 1/1/1970 | N/A | 0 | Completed | 9/25/1995 | |
| 2760 FOOD SERVICE SYSTEM | Session | 8/28/1995 | 1/1/1970 | 1/1/1970 | N/A | 0 | Completed | 8/28/1995 | |
| 7054 ALL | Session | 10/3/1994 | 1/1/1970 | 1/1/1970 | N/A | 0 | Completed | 10/3/1994 | |
| 2113-3000 ECR | Session | 9/26/1994 | 1/1/1970 | 1/1/1970 | N/A | 0 | Completed | 9/26/1994 | |
| 2154/55/56/57 RETAIL CLUS | Session | 9/12/1994 | 1/1/1970 | 1/1/1970 | N/A | 0 | Completed | 9/12/1994 | |
| TELEMEDIA | Session | 9/8/1994 | 1/1/1970 | 1/1/1970 | N/A | 0 | Completed | 9/8/1994 | |
| 7052 ALL (WAVELAN INCL) | Reference Materials | 8/29/1994 | N/A | N/A | N/A | 0 | Completed | 8/29/1994 | |
| COMM FAULT ANALYSIS IFT | Session | 8/15/1994 | 1/1/1970 | 1/1/1970 | N/A | 0 | Completed | 8/15/1994 | |
| ASYNC PROTOCOL IFT | Session | 8/15/1994 | 1/1/1970 | 1/1/1970 | N/A | 0 | Completed | 8/15/1994 | |
| Personal Computers: DOS | Session | 8/15/1994 | 1/1/1970 | 1/1/1970 | N/A | 0 | Completed | 8/15/1994 | |
| BISYNC PROTOCOL IFT | Session | 8/15/1994 | 1/1/1970 | 1/1/1970 | N/A | 0 | Completed | 8/15/1994 | |
| FINANCIAL CONCEPTS IFT | Session | 8/15/1994 | 1/1/1970 | 1/1/1970 | N/A | 0 | Completed | 8/15/1994 | |
| BASIC MECHNICAL CONCEPTS | Session | 8/15/1994 | 1/1/1970 | 1/1/1970 | N/A | 0 | Completed | 8/15/1994 | |
| NCR/DLC COMM PROTOCOL IFT | Session | 8/15/1994 | 1/1/1970 | 1/1/1970 | N/A | 0 | Completed | 8/15/1994 | |
| RETAIL CONCEPTS | Session | 8/15/1994 | 1/1/1970 | 1/1/1970 | N/A | 0 | Completed | 8/15/1994 | |
| DATA COMM CONCEPTS IFT | Session | 8/15/1994 | 1/1/1970 | 1/1/1970 | N/A | 0 | Completed | 8/15/1994 | |
| COMM PROTOCOL CONCEPT IFT | Session | 8/15/1994 | 1/1/1970 | 1/1/1970 | N/A | 0 | Completed | 8/15/1994 | |
| PC FUNDAMENTALS | Session | 8/15/1994 | 1/1/1970 | 1/1/1970 | N/A | 0 | Completed | 8/15/1994 | |
| 3350/55 WORKSTATION/SVR | Session | 8/12/1994 | 1/1/1970 | 1/1/1970 | N/A | 0 | Completed | 8/12/1994 | |
| PC DOS Subdirectories | Session | 8/9/1994 | 1/1/1970 | 1/1/1970 | N/A | 0 | Completed | 8/9/1994 | |
| RETAIL PC BACKOFFICE SYS | Session | 8/2/1994 | 1/1/1970 | 1/1/1970 | N/A | 0 | Completed | 8/2/1994 | |
| | | | | | | | | | |
Hardware SKILLS
Hardware skill rating is the percentage of my comfort level with repairing this section of hardware. I can find the problem and repair it within a reasonable amount of time.
Motherboard upgrade/repair
100%
Memory upgrade/repair
100%
Hard drive upgrade/repair
100%
Power Supply upgrade/repair
100%
LCD Display repair
100%
Data backup and restore
100%
Malware removal
90%
Virus Removal
90%
Windows recovery/reload
90%
Always Learning
100%
Programming SKILLS
Personal skills rating is the percentage of my comfort level with that programming application. Either that I already know how to design your request, or I can figure it out in a reasonable amount of time.
HTML5
100%
PHP
85%
MySQL
85%
CSS3
85%
Bootstrap
80%
Javascript
75%
JQuery/AJAX
60%
SEO
60%
Always Learning
100%
Hello, my name is Richard Tobert I am the designer and developer of SearchaBiz.com. SearchaBiz is free for every to use, although I have a paid subscription version "Business Owners Only" that unlocks 4 key features for only $4.99 per month.
These features are:
1.

Upload and mange up to 14 JPG or PNG images. For example, if you are a restaurant owner, take professional pictures of your Menu or Specials you may be offering. You can easily change anyone of the 14 images anywhere or anytime on your mobile device or PC.
2.

Update your business longitude and latitude with click of a button. This is important so Google Maps RT can direct your customers accurately to your businesses parking lot.
3.

If you have YouTube RT Videos of your Business, Search-A-Biz has a built in YouTube Video Carousel player. You can manage up to 14 Videos anytime or anywhere from your mobile device or PC.
4.

A business category field will be turned on, enabling the business owner to add key words about their business. Search-A-Biz uses a B2B and B2C database with generic but powerful search words. For example: If you are a Fast Food Hamburger shop owner, customers will find you if they search for ( food, Fast food or restaurant ) but NOT hamburgers. With the custom input search field enabled, you could add (Gourmet Burgers, Milkshake, Cheeseburger). Be creative and think about the best words that will bring up your business when customers are searching through Search-A-Biz.
5.

When you login to your business profile page, there will be a QR code generated specifically with the URL link to your business within the Search-A-Biz database. You can easily copy the custom QR code to a business card, and now you have a very simple and cheap way to advertise your business for only $4.99 per month
If your live in the Spokane/Post Falls/CDA Metro area, I would love the opportunity to repair your computer or laptop. I have Over thirty years Experience repairing, maintaining and building computer systems. 22 years of experience with NCR (National Cash Register) repairing computers, cash registers, ATM machines, Cisco networking systems and many other hardware devices. During my years with NCR, I acquired many Certifications and Training courses, that make me 100% Qualified to repair your device.
This is me
Owner Operator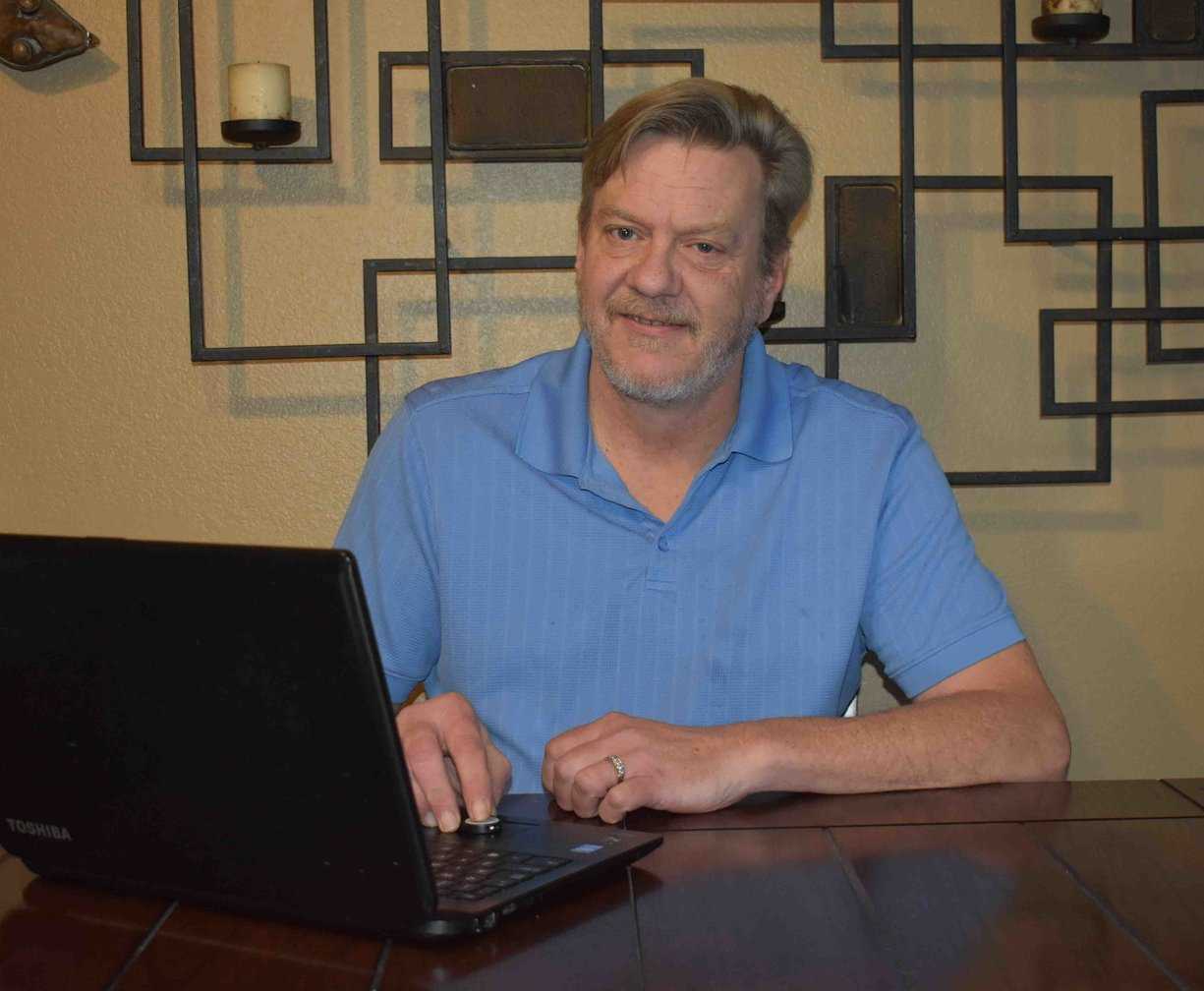 Contact Me
PO Box 51
Greenacres, WA 99016